The OTP code input method is not only vulnerable to
phishing or pharming attacks,but it is also inconvenient to type every time.
Try AutoOTP, which automatically provides OTP. Convenient and secure AutoOTP is provided for free to all online services.

OTP technology is a technology in which a user inputs a one-time password into an online service and the online service verifies it to authenticate the user—once it registers the OTP generator and user account, user authentication is possible on multiple devices such as PC, tablet, smartphone, ATM, and smart TV. However, OTP technology is vulnerable to man-in-the-middle attacks because it cannot check whether the online service connected by the user is fake, and it is inconvenient to read and input the 6 digit number into the device every time.
AutoOTP is a technology that the online service presents to the user, instead of the user entering a one-time password into the online service and the user verifies it, with the AutoOTP app. No need to do anything complicated: one checks the 6 digit number submitted by the online service and confirms if it is the same as the 6 digit number in the AutoOTP app. In addition, as with general OTP technology, by registering an AutoOTP generator and user account, user authentication is possible on multiple devices such as PCs, tablets, smartphones, ATMs, and smart TVs.

AutoOTP Service consists of AutoOTP mobile app and AutoOTP authentication server. An online service operating organization that wishes to use AutoOTP the AutoOTP authentication server and installs it directly, and guides the online service customer to user authentication through the AutoOTP app.
AutoOTP Service installs the AutoOTP authentication server on the online service server and links it with the existing online service, then registers and uses the online service account in the AutoOTP mobile app. To register an online service account in the AutoOTP app, one scans the AutoOTP registration QR code presented by the online service in the AutoOTP app or enters the registration code. AutoOTP mobile app can be linked with AutoOTP authentication servers and accounts provided by various service organizations, and it's possible to register accounts with general OTP authentication servers.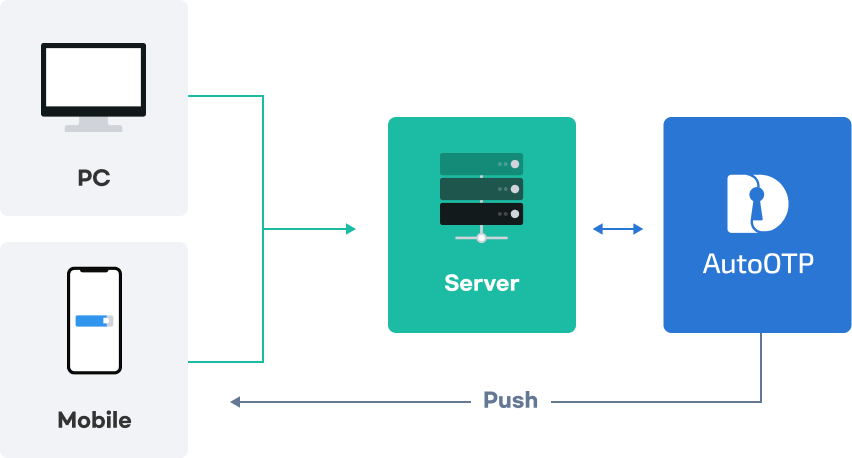 Experience fast authentication with AutoOTP
If you would like to experience the next-generation OTP technology designed to solve security vulnerabilities and inconveniences, please contact us.