AutoPassword Access Manager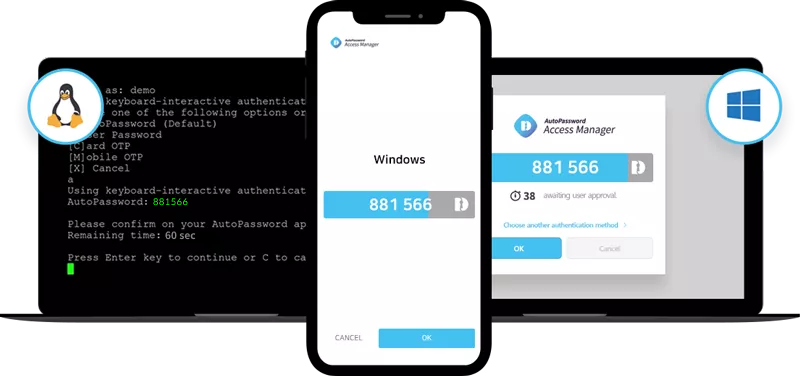 AutoPassword Access Manager is a mobile-based PC and server access management solution which makes users no longer need to change or memorize the password since the PC or Server provides the AutoPassword™ by itself and the users verify it on their mobile devices and not the users entering their passwords.  Instead of the user password, it uses AutoPassword, so it gives the security without credential breaches and the convenience with automatic user password updating in OS. It frees the user from password management.
01
ABOUT AUTOPASSWORD ACCESS MANAGER

TRUE ACCESS MANAGER COVERING ALL APPLICATIONS AND DEVICES
The AutoPassword Access Manager can control web applications and PCs and Servers at once.  
If you install the AutoPassword Access Manager Client on your PC and Servers, you can set true access policies to include your PCs and Servers, besides web applications.

A TRUE ACCESS MANAGER THAT
COMES WITH AUTOPASSWORD
Secure and convenient authentication is the core of IAM(Identity Access Manager). 
When using IAM, the method in which a user enters a password and 2FA code is very vulnerable to phishing or pharming attacks that cannot verify the authenticity of IAM.
AutoPassword Access Manager protects IAM from phishing and pharming attacks by using a mutual authenticator using AutoPassword.

EXTENSIBLE ACCESS MANAGER SUPPORTING THE STANDARD


AutoPassword Access Manager supports AutoPassword authentication protocol and most international standard authentication APIs and protocols such as OAuth2, SAML, LDAP, RADIUS, etc.
Does your access manager cover all your devices and applications at once?
If you're using a web application access manager, you might not be aware that you're losing a lot of time and resources.
Not only that, but you're also extremely vulnerable to phishing and pharming attacks, especially when combined with the vulnerability of user passwords and traditional Two-Factor Authentication (2FA).
AutoPassword Access Manager on the other hand, allows the user access from multiple devices and applications, with a secure and convenient authenticator.
If your Identity Access Manager does not have a secure authenticator, all your information can be vulnerable.
AutoPassword Access manager is the only IAM which supports the mutual authenticator.  It makes users not only free from typing 2FA code and changing a user password, but also verifies the authenticity of IAM against phishing and pharming attacks.    
If you connect all the information on the one, you need the IAM which has a secure authenticator.
AutoPassword Access Manager Boosting Security and Convenience
You can integrate existing directory servers including AD for PCs, LDAP for servers and DB for Web applications.
Using AutoPassword Access Manager, you can set access policies for each user, device and application.